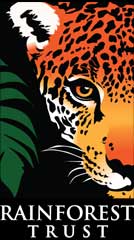 Our mission is to purchase and protect threatened tropical forests and save endangered wildlife through community engagement and local partnerships.
Celebrating 25 years of lasting conservation action, Rainforest Trust has saved over 7 million acres of tropical forests and habitats for endangered species by strategically preserving the highest priority areas. 
Visit us to learn more at RainforestTrust.org.
Supporting Artists / Stores:
Ann Kruglak / Mystic Dreamer Art: Whimsical and fun polymer clay art gifts. Pledges 100% of the sale price of each item.