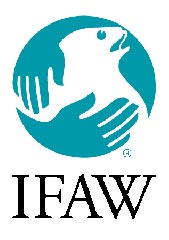 Founded in 1969, the International Fund for Animal Welfare (IFAW) rescues and protects animals around the world.  With projects in more than 40 countries, IFAW rescues individual animals, works to prevent cruelty to animals, and advocates for the protection of wildlife and habitats.  
Our work connects animal welfare and conservation, demonstrating that healthy populations, naturally sustaining habitats and the welfare of individual animals are intertwined.  We are sensitive to the needs of communities and work for solutions that benefit both animals and people  Visit us to learn more at ifaw.org.  
Supporting Artists / Stores:
Bria Neff / Pigtails Art: Original acrylic paintings and prints of endangered wildlife.  Pledges 75% of the sale price of each item to support IFAW, the Wolf Conservation Center, and the Jane Goodall Institute.