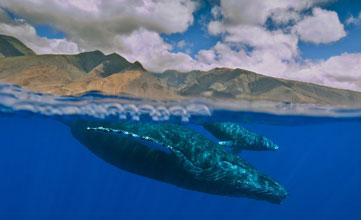 More than 60% of female humpback whales of the Central North Pacific head to the waters around Maui to raise their calves.  The Keiki Kohola Project conducts management-oriented research to help preserve this region as a nursery, where humpback whale mothers can safely raise their calves.
Visit us to learn more at CaringForCalves.org
Photo image courtesy of Cesere Brothers Photography
Supporting Artists / Stores:
John and Dan Cesere / Cesere Brothers Photography.  Fine art underwater photography.  Pledges 10% of their sale proceeds from all humpback whale images.