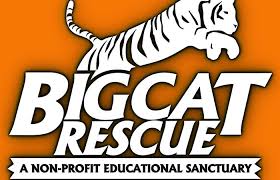 Big Cat Rescue is one of the largest accredited sanctuaries in the world dedicated to abused and abandoned big cats.
We are home to about 80+ lions, tigers, bobcats, cougars and other species most of whom have been abandoned, abused, orphaned, saved from being turned into fur coats, or retired from performing acts.  What sets Big Cat Rescue apart is that we are working to end the abuse at its root by ending the private possession and trade in exotic cats through legislation and education.
Our mission is to provide the best home we can for the cats in our care, end abuse of big cats in captivity and prevent extinction of big cats in the wild.  
Visit us to learn more at BigCatRescue.org.
Supporting Artists / Stores:
Roxane Gabriel / Roxane's Etsy shop and on Instagram: Colorful oil paintings of nature and people with a touch of spiritual awakening and consciousness.  Pledges 10% of the sale price of each item in the "Our True Nature" series.