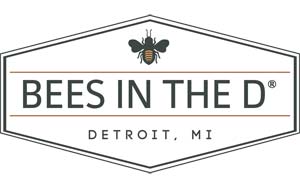 Our mission is to create a cooperative effort between residents, schools, organizations, and businesses in the city of Detroit and Southeast Michigan to contribute to both the health of honey bee colonies and the education of their importance to our environment. We are here to educate on the importance of pollinators and the conservation of honeybees while building a network of urban honeybee hives. We have introduced over 9 million bees and manage over 160 honey bee hives at over 50 Michigan locations, across 6 counties, and in 2 countries. 
Visit us to learn more at BeesInTheD.org
Supporting Artists / Stores:
Diane Morgan / Diane Morgan Fine Art: realistic watercolor and oil paintings of bees, flowers, and whatever peaks her interest. Pledges 2% of the sale price of each item.