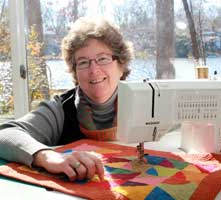 Cindy Grisdela of Cindy Grisdela Art Quilts pledges to support the Chesapeake Bay Foundation from sales of her artwork.
"Although my work is abstract, I am inspired by the beauty of the natural world around me for the colors and textures in my quilts."
Shop at Cindy's website or Cindy's Etsy shop for vibrant contemporary wall quilts full of color and texture.  Also available at shows and exhibits all over the country.