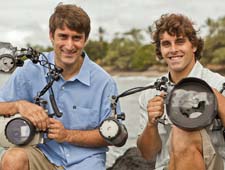 The Cesere Brothers pledge to donate 10% of their sales of humpback whale images to Keiki Kohola Project.  
"We just love the ocean so much that we made it our life's work to spend time in it. Scuba and Photography are the vehicles that we use to share our passion. When the opportunity to work with the Keiki Kohola Project came up and we could not only swim with these giant, amazing animals as well as help protect them, we were instantly onboard. Spending our lives behind the lens enables us to see the changes that are happening to the ocean and whenever we can, we try and help to fix the present conditions. Volunteering on the Keiki Kohola Humpback Whale Research team to help educate people and protect these animals is something we are very proud of."
Shop at Cesere Brothers Photography for amazing fine art underwater photography.