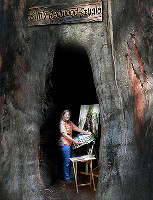 Kim Reid of Kim ART and Design pledges to donate 50% of the sale price of each limited edition print of Sanctuary Forest inspired paintings (Luna and Big Red) to Sanctuary Forest.
"This sequoia semperviren redwood, estimated 1000 years old, is called Luna.  Semperviren means 'forever living' in Latin.  Luna (AKA Stafford Giant) was saved by the heroic effort of Earth First! and Julia Butterfly Hill in 1997 when she lived on a platform in its branches for 738 days.  One year after Julia came down to the ground, Luna was attacked with a chainsaw.  Then a great effort ensued to save Luna and heal the wound.  Their conservation efforts successfully protect Luna and a 200-foot buffer zone from ever being logged.  Today Luna is under the stewardship of Sanctuary Forest.  I am working on a series of ancient tree portraits to promote environmental conciousness."
Shop at Kim ART and Design for limited edition prints of ancient trees.