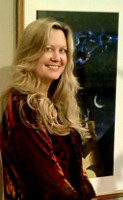 Erika McGinnis is proud to support the International Dark-Sky Association from sales of her artwork.
"Preserving our night skies is an often overlooked part of environmental activism, but is equally important to the balance of nature.  Light pollution is causing devastation to animals as well as harming our own health.  The starry night is our heritage and right to have, as it is our connection with the cosmos of which we live."
Shop at Erika McGinnis Art for ethereal paintings and drawings.