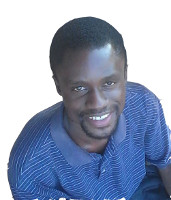 Victor Matthew Ablorh pledges to donate $60 to Bioneers from each painting sold.
"Though I am the tip of the Iceberg; which is the entire world, I can make a change.  Though I am a drop in the mighty Ocean, my little drop can fill the bucket of Conservation to the brim.  This is my dream.  When this dream is accomplished than I would be glad, knowing that my talent has been a blessing to humanity."
Shop at Victor Matthew Ablorh on Fine Art America for acrylic paintings of African scenes and Natural Landscape Paintings.