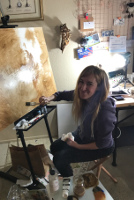 Andalee Hyatt of Andalee Illustration pledges to support American Forests from sales of her artwork.
"I love creating colorful, empathy inducing artwork on nature themes.  My work consists of bright colors, flat lines, and surrealist themes.  I paint food, animals, plants, and otherworldly subjects in the hope of drawing attention to how we treat our home on Earth."
Shop at Andalee's personal website and at Andalee Illustration Etsy store for watercolor illustrations.