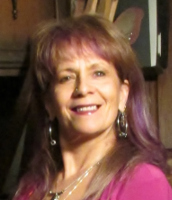 Marg Tudino of Earthway Studio pledges to donate 10% of the sale price of each item to Runs With Wolves Sanctuary.
"Spiritual in nature my work speaks of the natural world, animal, plant, or human, and touches on topics close to my heart.  Whether it be a large drawing, a small art card or a piece of clay jewelry, I like to use bright bold colors, earthly objects and themes which give voice to my creative work, bringing a kind of song and music to each piece, like a dance of healing.
My work is predominantly incased in the circle or oval form creating a sense of balance to the multi-dimensional rendering of time and space.  Having a background in earth based traditions I hope to bring into the world a sense of balance and healing; the way of beauty for the next seven generations to come."
Shop at Earthway Studio for magical watercolor and pen illustrated art cards along with one of a kind jewelry made of clay and beads.