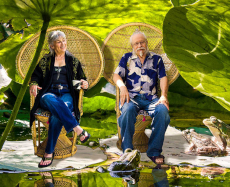 Dick Hoeft and Rosanne Arnowitz pledge to donate 5% of the sale price of each item to Archangel Ancient Tree Archive.
"Our photography is a study and celebration of nature. We never left the Garden of Eden, but we stopped respecting and valuing it. We hope to entice people to reengage with nature and help them recognize that we all need to be better stewards of the land.  In our minds, there is nothing more important than that.  Quite simply, our lives depend on it.
98% of the old growth forest in America is gone.  Archangel Ancient Tree Archive is working to turn that around and working worldwide.  We urge you to watch this short documentary about their mission.  It is inspiring and vital work.  Thanks."
Shop at Dick and Rosanne LLC for photos that focus on the incredible beauty, magic and power of nature.  Manifestations of nature mandalas enabling people to more easily realize the sacred geometry of reality.