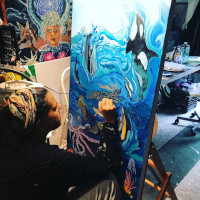 Patricia Arroyo pledges to donate 10% from each original painting and 5% from each nature print to Friends of the Earth.
"Whether we are observing nature from our own home or out in the world there is no denying how dynamic and wonderful our earth truly is.  But the world is in trouble, from oil fracking to deforestation and over-consumption of fish and wildlife and above all, pollution.  If ever there is a time to take part in preserving this great world, the time is now.  I am truly honored to do my part by bringing awareness through my artwork.  When you purchase any nature-inspired artwork, you and I are both contributing to those who are actively fighting for our future generations to live on a better planet.  I am more than happy to donate to Friends of the Earth FOE.org, a strong organization who is there on the forefront of protecting our precious planet."
Shop at Arroyo Art Studio for original paintings of nature and of people done by hand with watercolor, acrylics and oils on either canvas, paper or wood.  Includes mandalas and hamsas.  Learn more about Arroyo Art Studio on Facebook.