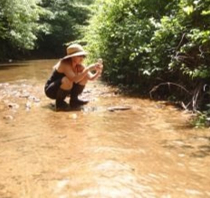 Caroline Karp of Caroline Karp Art pledges to donate 1% of the sale price of each item to the Environmental Defense Fund and 1% to Keep Tampa Bay Beautiful.
"I am passionate about the environment and keeping our waterways sparkling clean. My bond with nature encourages me to travel to waterways around the world to capture their amazing beauty. I began studying how weather affects water in my undergrad studio art classes."
Shop at Caroline Karp Art for expressionistic multimedia acrylic paintings depicting nature, abstractions, and yoga poses.