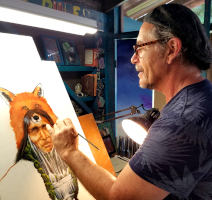 Shel Waldman pledges to donate 5% of the sale price of each item to Runs With Wolves Sanctuary.
"I believe art should provide a component of beauty and be visually pleasing and connect to the viewer aesthetically, while evoking a deeper relationship to ourselves and our surroundings.  I have always been drawn to illustrate different cultures and show the strong but beautiful connection between humanity and nature and wildlife, and the spirituality we share.
Thus, my greater goal remains in capturing the essence of the inner spirit and connecting with it as it resides in all beings, and do so via visual illustration on mixed media.  By accomplishing this, I am able to connect with people and they with my art."
Shop at Spirit Within Art on Facebook for finely detailed, contemporary and visionary Native American art. Shel's next series will focus on wildlife and nature.