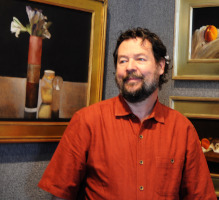 John Davis Held pledges to donate 10% of the sale price of each item in his wildlife series to World Wildlife Fund.
"I cannot imagine living in a world without wildlife.  There is something deep in our souls that is captured by the sight of tigers, emperor penguins, orca whales, and polar bears.  What would it be like as a child growing up without drawing such creatures?  There is something about the wild that frees the imagination.  Without this, we would be less than human.
My wife is an Environmental Scientist, and together we have studied the science involved with the devastating impact of climate change.  We wish to support the World Wildlife Fund as an organization which can put a face to larger issues that face us all."
Please shop at John Davis Held Fine Art for luminous artwork in pastel and oil.