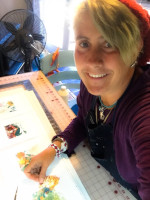 Damini Celebre participates in 1% For The Planet and pledges to donate 1% from her artwork sales to the Schuylkill Center for Environmental Education.
"I believe that everything around us is alive and has Spirit. As a lover of the natural worlds, magical worlds, and the inner realms my work strives to create a bridge between Humanity and Nature.  I explore this connection by creating artwork that expresses our dynamic relationship with Nature, through 2D works and site-specific installations in the hope to heal our relationship with The Web of Life."
Shop at Damini's website and buy prints of her artwork at Fine Art America. Be sure to check out Damini's creative classes.