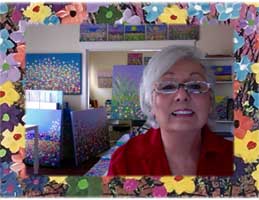 Dorothea Sandra pledges to donate 10% from each "Why Kill Nature?" original painting and 5% from each print to the Xerces Society.
"When I bought a house/art studio in a lovely town along the shores of Lake Huron, I was so surprised to discover I shared the outdoor spaces closest to my house with so many bees. They are so beautiful and friendly and have become a great inspiration for my art. I've been told my upbeat and colorful paintings BUZZ with modern creativity and positive energy!"
Shop at Dorothea's website for floral and landscape paintings and prints.