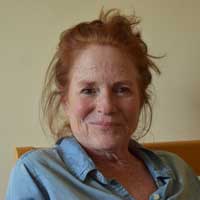 Marian Jones pledges to donate 10% of all sales to the Jane Goodall Institute.
"My past life here on earth was spent in theatre and film and just recently I realized that it was no longer fulfilling my creative heart.  So while doing my favorite thing, walking along the shore of the Pacific Ocean, I had a talk with my dear father Odie who passed away in 2009.  I simply asked him to guide me towards something that I could sink my teeth into something that could fulfill my artistic soul.  Within half an hour of that conversation I looked down and saw the most beautiful image.  I captured it (on my iPhone I didn't have my camera with me) and when I got home I really looked at it closely and realized that my father had guided me to natures canvass. That very first photo is entitled "Odies Gift" and it was shown at the Praxis Photo Center Gallery in Minnesota the very same year I started shooting (2019). My photos are not manipulated in any way whatsoever.  They are just as I see them. These images will never be seen again because they change with the tide. Nature creates these images I capture them. They are just like my father; simple, lovely and true."
Shop at Marian Jones's portfolio for unique moments captured in photography along the sandy shoreline.