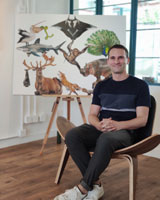 Sailev pledges to donate 10% of his sales of original paintings to environmental nonprofits, based on the subject of each painting. Organizations receiving donations: 
- Hong Kong Shark Foundation (Hong Kong NGO raising awareness about the shark fin industry in HongKong and China)
- NOE (French NGO that acts to protect biodiversity)
- Environmental Justice Foundation (that protects the rights of the climate refugees, registered in the UK)
- Orangutan Foundation International (rehabilitation center for Orangutans in Indonesia, headquartered in US)
- Port Macquarie Koala Hospital (Australia) (in Australia)
- WildAid (against poaching) 
- David Sheldrick Wildlife Trust (for wildlife protection, based in Kenya)
"When you love something you want to protect it. The ambition of an eco-artist like me is to harness the power of art to increase awareness towards the environmental challenges and stir positive change. Uplifting the Earth to a more sustainable future truly rests in our hands and my art invites the viewer to consider his actions in the world and take better care of nature by making better decisions. I always prefer to show the beauty of nature in my paintings with an abundant and colourful aesthetic rather than the on-going destruction to inspire in a positive way."
Shop at Sailev's website and follow him on Instagram.