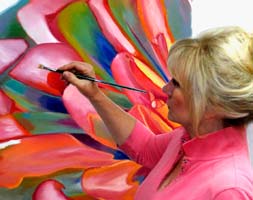 Diane Morgan pledges to donate 2% of the sale price of each painting sold to Bees In The D in Detroit, Michigan.
"I paint bees to help save bees....to bring attention to the colony collapse crisis. I want to help make the bee crisis a prominent issue, get more people involved to solve the problem.  Without bees we will lose many of our food crops. I learned that if the bees continue to die at the current rate, there will be no bees in 25 years.  In 1980 there were 4.5 millions hives.  Now there are only 2.9 million. I hope my work can help raise awareness about this important issue."
"I want people to take the time to learn about the importance of bees and what they can do to help save them.  Many simple things can make a difference. Stop using pesticides.  Plant flowers and vegetables to give them food sources.  Many cities are now allowing gardens in front yards instead of lawns." 
"I'm originally from Detroit and was pleased to discover  Bees in the D ... a Detroit non-profit that has made great strides in showcasing the importance of bees to the environment.  They have established an incredible number of roof top hives in and around the Detroit area and Canada. They take their passion for teaching to organize and host community events like honey harvests, educational classes on the basics of beekeeping, interactive children's learning events, and speaking engagements about honey bees, pollinators, and gardening. They are getting the community involved in saving bees and increasing bee populations. I plan to donate a percentage of my sales to help them spread the word and expand their operations. I hope others will do the same."
Shop at Diane Morgan Fine Art for realistic watercolor and oil paintings of bees, flowers, and whatever peaks her interest.